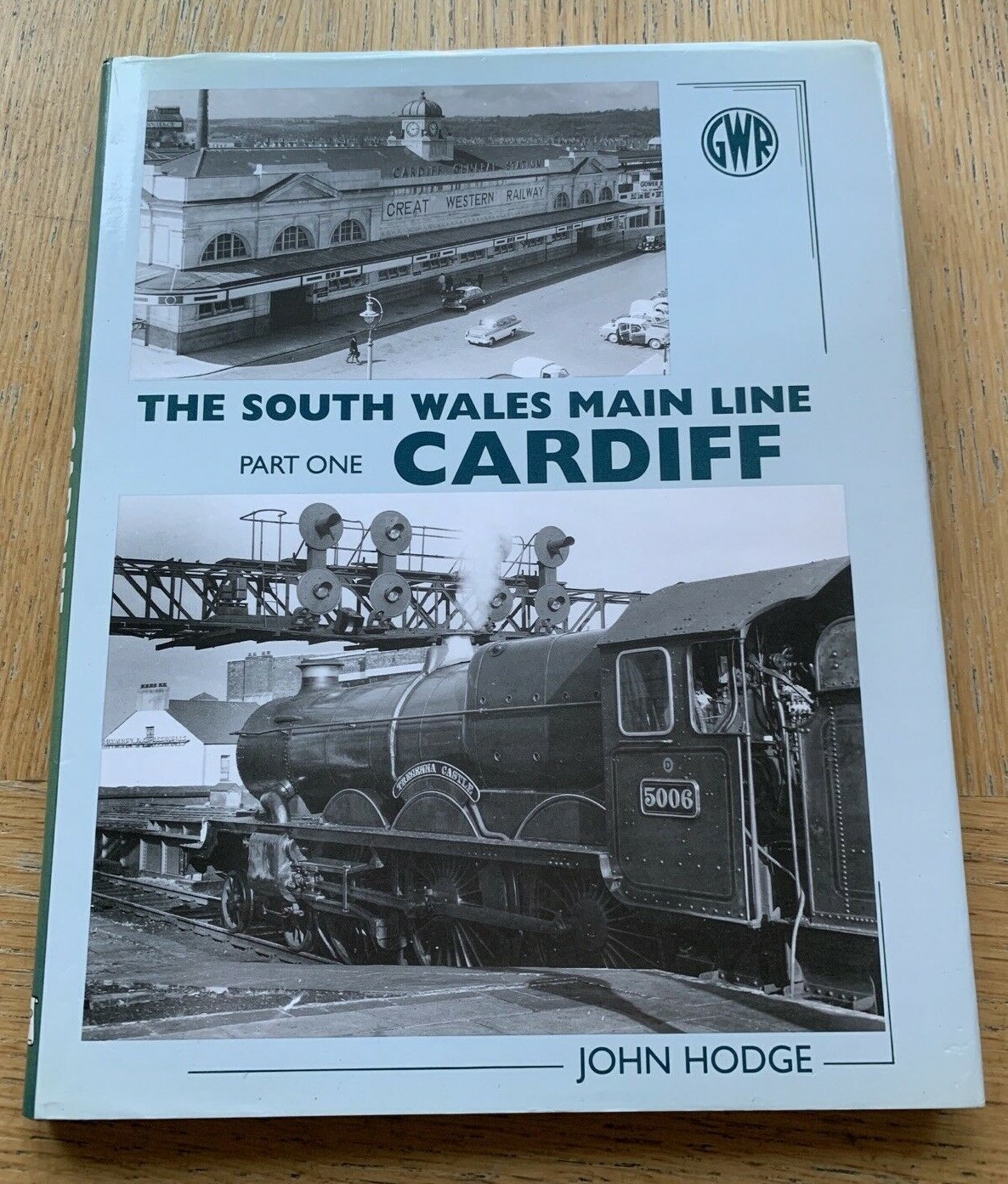 Click here to see similar items on eBay, and to buy.
The South Wales Main Line: Part 1 Cardiff by John Hodge(Wild Swan 2000)
Cardiff was of great importance to the Great Western andthe Western Region of British Railways. In addition to the extensive railwayfacilities catering for the heavy flow of traffic between the coalfields,industrial sites and the docks, the city also contained a considerable varietyof amenities to handle main line traffic, as well as freight originating fromor destined for the docks and valleys in connection with other parts of thesystem. In the 1950s, the facilities on the main line commenced in the east atRumney River Bridge, and ran westwards to encompass the yards of Pengam andRoath, the large goods shed and yard at Newtown, the city's impressive Generalstation, and the renowned engine shed at Canton.John Hodge has compiled an outstanding selection of his ownand Bob Tuck's photographs to illustrate the railway scene from Marshfield toCanton inclusive, including extended sections on Pengam and Roath yards,General station and Canton shed. A comprehensive record of main line passengerand goods traffic in the 1950s and early 1960s is incorporated into thisirresistible volume, along with inspiring views of engines around Canton shedduring the same period. A glimpse of Cardiff's heavy local through trafficbetween the Valleys or Clarence Road and Penarth or Barry, running via Generalor Riverside stations, is also afforded, providing an interesting contrast withmain line movements.Wild Swan Publishing 2001 Hardback 104pagesISBN 978-1874103585Book is in excellent used condition. It will be well packaged for despatch.UK bidders:  happy to accept paypal, even happier to receive cheque by post or good old cash if collecting in person – we would prefer not to receive payment by paypal on uk invoices totalling 10.00 or less (cumulative over any number of auctions and including postage), below that amount cheque or internet bank transfer is preferred. Details will be provided with invoice after sale has ended. Multiple purchases will be grouped to achieve cheapest rate for postage.
I always obtain proof of posting from royal mail on every consignment despatched and can send this to you in the highly unlikely event that your item does not arrive, and should you need to pursue a claim for an item lost or damaged in the post.My policy on feedback is to wait until positive feedback is received from the buyer, so that i know that the item has been received safely. Please bear this in mind if you wish to receive feedback.
Click here to buy, and to see similar items on eBay
---
Category: Collectables:Transportation Collectables:Railwayana:Books:British Rail (1948-1997)
Location: Worcester