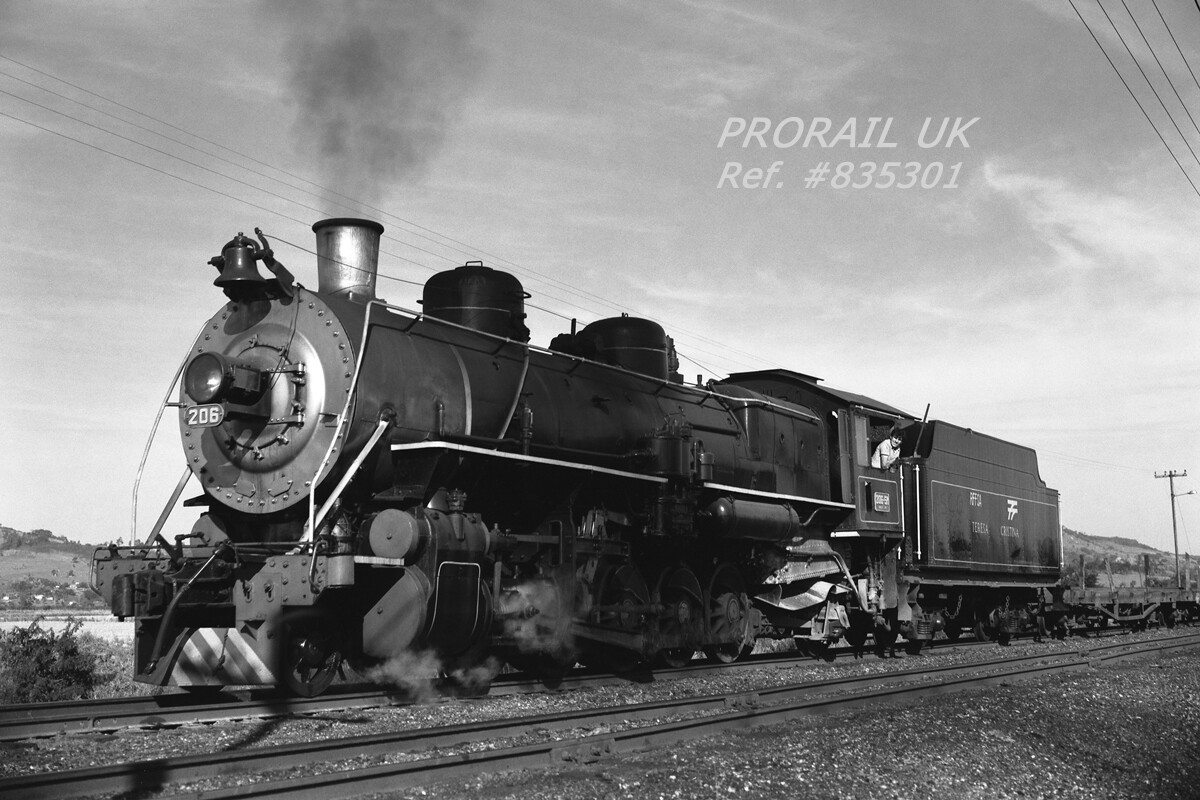 Click here to see similar items on eBay, and to buy.
Listing Template 2018 Home About Us Shipping Returns View Feedback Add to Favourites Contact Us 6×4″ (15x10cm/A6) Print – A5 & A4 available————————————————————From the Prorail UK Archives …
————————————————————Brazil RFFSA (Teresa Cristina Division) metre-gauge 2-10-2 locomotive No. 206-5M in ex-works condition with a coal train in 1983. It was one of a group of ex-Argentinian E5-class (FCN General Belgrano 13xx series) locomotives to be purchased, surplus to Ferrocarriles Argentinos requirements. Initially numbered 409 when first transferred, ex-Belgrano No. 1351 had been built by koda [under works number 1981/1949].[Image ref. #835301]
  Please Note This new series of  images has been introduced to satisfy a growing demand for prints from our extensive archives. We have been maintaining the collections of a number of well-known railway and travel photographers over the years – and there are some rare and wonderful surprises to be found. Whilst individual images had been made available for publishers, the bulk of the material has remained hidden from general view. We have invested in a top quality, professional, 12-colour printer to do justice to both monochrome and colour images.
Additional Information  The reference number and "Prorail UK" watermarks shown on the illustrations will NOT appear on any prints despatched to you – and the image quality will be significantly better too.  However, the reference number is important, as it will allow you to recall caption information at a later date.  Depending on day-to-day demand, we will endeavour to include a hard copy of the caption(s) with your purchases – and mark the number on the reverse side.  Please remember that we do not normally hold "stock" of these items but would print them as required.  Our recommendation for monochrome prints is to use good quality "satin / pearl" papers – or a smooth "matte" finish – rather than conventional high gloss, as they do not show fingerprints and/or reduce glare under artificial lighting.  Further choices of print medium and sizes could be considered on special request. —————————–ooOoo—————————– As well as many items from the early British Railways period (1950+), representative railway images (mainline and industrial) will be on offer from a wide range of countries (using the names applicable at the time visited), including :
Angola, Argentina, Australia, Austria, Belgium, Bolivia, Brazil, Bulgaria, Chile, China, Czechoslovakia (former), Denmark, East Africa (Kenya, Uganda, Tanganyika), Ecuador, France, Germany, Greece, Holland, Hong Kong, Hungary, India, Indonesia, Ireland, Italy, Jugoslavia (former), Malawi, Malayasia, Moambique, Norway, Pakistan, Paraguay, Peru, Poland, Portugal, Rhodesia, Roumania, South Africa, Spain, Swaziland, Sweden, Thailand, Turkey, UK, Uruguay, Zambia, Zimbabwe.
Our Collection From a large collection of fine transport material accumulated over many years that now needs to be reduced, due to space limitations. Other material will continue to be added to the Prorail UK shop on a regular basis, specially selected to enhance your collection. Look out for other selections of books, magazines, photographic images (negatives & transparencies) and prints, postcards, tickets, timetables – and general railwayana, from this extensive source. Payment Within the UK, payments may be made by personal cheque or postal order – or by PayPal. International bidders are always welcome, when small items will be sent by an appropriate method. PAYPAL is the preferred payment method for international bidders. HOWEVER, due to recent experience of "chargebacks", it has been decided that the default option for overseas postage must now cover full "tracking" – such as Royal Mail's "International Signed For" or "Airsure" services. Bidders known to us who use PayPal will be able to continue using standard services but MUST AGREE TO ACCEPT ALL RISKS involved. Other payment methods are still available within the Euro area and all existing arrangements will be honoured. Postage & Packaging Postage & Packing is not just the price of a stamp. Postcards, tickets and negatives need care in wrapping and despatch, so it is not sensible to "economize" in that area. Such items are sent in cardboard envelopes, carefully inserted and properly sealed; bulkier items may require bubble packaging. Even though we are now offering inclusive pricing – covering free or subsidized postage, no relaxation of our established standards will be allowed. Whether selling for 2 or 200, all items are afforded the same level of care and attention. To contain steadily rising costs, we will now be listing items for UK (domestic) delivery at a starting price inclusive of 2nd class postage. At our discretion, should the selling price permit – or where multiple purchases can be despatched at the same time – 1st class postage may be used. International purchasers will not be affected by these changes; the rates quoted for airmail to external destinations being based on the actual cost of postage less the inclusive UK rate (but uplifted to cover eBay charges levied on the p+p amount). Home About Us Shipping Returns View Feedback Add to Favourites
Click here to buy, and to see similar items on eBay
---
Category: Collectables:Transportation Collectables:Railwayana:Photographs:Overseas Railways
Location: Braunton